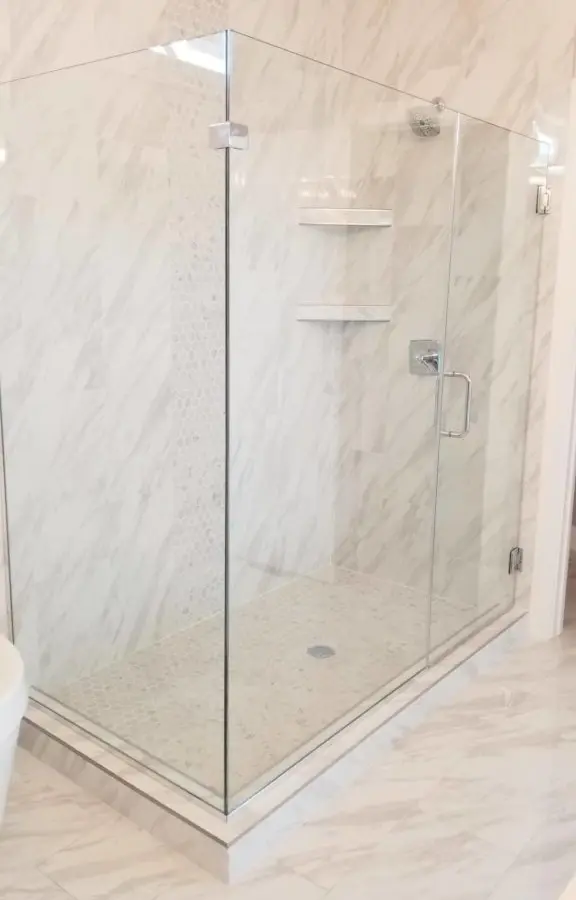 Doug Sassman started working at the family glass business, Mid-Iowa Glass, as a teenager. In 1980, he started his own endeavor and Sassman Glass & Mirror was born! Sassman Glass & Mirror has been operating in the Des Moines metro area for 40 years.
Our technicians and supporting staff have over 200 years combined of glazing industry experience. We have full-time shower door & mirror technicians, commercial glaziers, and a commercial estimating team.
If you're considering a bathroom remodel or face-lift, stop in and see us! We'd love to show you the latest shower door designs and trends.
The team was quick, efficient and super respectful. Both my partner and I work from home and we both happened to have zoom meetings during our install time. The team was awesome about the install and didn't disturb us at all. The work was flawless and the price was way less then expected. I'd highly recommend Sassman to any of my friends.
Steven was the installer who came out to fix a broken window. He provided excellent service. The window was quickly repaired. He showed and explained the work he had done. He was very friendly and professional.
Overall my experience with Sassman glass was a wonderful experience. From the initial call, to the set up of the appointment, the work done and efficient billing. I would definitely do business with them again.
Fantastic experience start to finish. Jacque in the office was professional, courteous and provided a prompt estimate. Installers Joe and Daunte did a perfect job setting the new shower door and surround. Quality shop here. Highly recommend!
Joe and Adam provided amazing service, while installing my new glass shower panels and door! They were professional, detailed and took pride in their work. I would definitely use Sassman again.
My shower door was sagging since it was installed 6 years ago. My technician and his assistant were in and out. Door is adjusted now. Doesn't sag, matches up perfectly and does not touch the stationary door. Amazing work outstanding attitudes on both young man. I would highly recommend Sassman for you glass needs. Outstanding work! Thank you very much.
They reached out immediately wanting to help. Replaced the parts that needed it quickly, and were very nice while here.
I'll use them again, and very much recommend them. Very easy to work with.
--------------------------------------------------------------------------------------------------------------- Per the picture, the hardware facing out was damaged during or prior to the installation, and not replaced. it's about a thumbs width but the scratches are in a noticeable spot. Per the other picture, after a few months on the other door they installed the water seal at the bottom has pealed half way off and flops around. The installers were courteous, the doors and hinges are clearly high quality and measured well. I just find it frustrating being stuck with damaged 'new' products.
I needed a shower door installation. I went with Sassman knowing they would do a good job, as I've used them before and their great reputation. Adam and Shakeim were very friendly, and courteous and did an excellent job installing the shower door. This is a company you can trust, and I would use them again!
We're very happy with our new frameless glass shower door from Sassman Glass.
Jake was very helpful and knowledgeable. Adam and Michael did an excellent job on installation. We felt comfortable in dealing with everyone. They care about helping us.
Stephen and his co worker arrived 1st thing in the morning and were very pleasant. They removed the broken window and went to there truck to fix and came back and got the window back In quickly because of 30 degree temps and blowing snow. The were friendly and polite to me, my husband and my dog. I thought I might be a little late to work, but I wasn't. Always impressed with Sassman and their employees. I wish the prices were cheaper, but I want good quality so I pay the price.
I had Sassman Glass store a 66" x 42" mirror for me while I did a remodel on my home. When they installed the mirror, it had a scratch. Jake took responsibility for the scratch and replaced the mirror. Adam and Joe installed the new mirror. They took their shoes off at the door even though I didn't ask them to. I was pretty sure I would have to do some paint touch up, maybe even some drywall repair. I didn't have to do anything. It was perfect. They were in and out in less than an hour. I couldn't be happier. I will definitely use Sassman Glass again. Thank you.
Earlier this week, I needed materials to repair a custom glass shower. After multiple stops with no success, someone recommended Sassman Glass. I stopped and found the Sassman team to be very pleasant and helpful. They immediately understood what I needed and they had the parts in stock. I was in and out in 10-15 minutes - parts in hand, cut to fit. They have a very well-organized shop and great people. Highly recommended.
We ordered glass to be cut for a wicker end table. Lines and corners of wicker are not necessarily even, but Scott did a super job of following the template we had drawn. It was perfect - and fit like a glove! In addition, to our surprise, the work was completed so quickly, the same day we stopped to order it. We were totally satisfied with the knock-your-socks-off service and the quality and end result of this project. You can be certain we will use Sassman again.
We moved into a new house and our glass shower kept leaking and the door would not shut and seal either. Adam and Austin just finished fixing it without ruining the beauty of seamless glass. They were so nice, kind and fun. They were diligent and had great suggestions. We appreciated everything and are looking forward to not mopping up the floor after a shower. Haha! Thank You Sassman, Austin and Adam!
Adam and Bedale were the team that installed new sliding glass doors for our shower. They were courteous, professional, kept the work area clean, and very efficient in completing the job. I would use Sassman Glass again and recommend them to others.
Our glass shower door had gotten out of alignment and Sassman Glass took great care of us. Sheldon and Joe were quick, efficient, and fixed the door. They were on time and easy to work with. We will use Sassman Glass for any future glass needs.
Joe and Shelton installed a shower glass door and walls, and they did a great job! Great installation, timely and professional. Everything looks great - thank you!
We had purchased a shower door from Sassman about a year ago. We had an issue with the door seal, Jake immediately ordered the new seal and as soon as it came in he was here to install it. Very happy with their service, great Company, highly recommend them!!
I used Sassman for a Glass shower enclosure and shower door service.
Jake was great to work with and easy to communicate with.
Adam, the installer, was on time, professional, and very detailed with his work.
Great company to work with.
Adam and Michael installed sliding glass doors in a new fiberglass shower. They did an excellent job, making sure the door stayed closed, tho the shower itself was not 100% level. They were polite, professional and tidied up afterward.
Bedale & Adam aka/hot dog did a super job. Very professional & friendly. Very Happy with the job!